Nothing is more exciting than outgrowing your company's space and needing to move to a new location. Business is booming, the company is growing and now it's time to take that next step and hire an office removals company to help you move into a brand new office. Don't worry, if you're a small business or moving into a smaller office space, then we can accommodate that too!
If you don't want stress and hassle to ruin your excitement, contact one of the most trusted removals Sheffield, Hallam Removals. Our office removals services are highly rated and have earned a reputation for excellence within the industry and community.
We will work closely with your business throughout the entire process to keep your business running as usual while you move. Our commercial removals are tailored exactly to your needs to help you move your company.
So whether you are located in Sheffield Business Park, Sheaf Bank, Sheffield Technology Parks or somewhere in the surrounding areas, we can help you move to your brand new office with ease!
Our Office Removals Process
A Free Site Survey
Just like our house removals Sheffield, our service always begins with a free site survey of your office that's conducted by a member of our highly trained team. An office surveyor will visit your location to evaluate what work needs to be done to properly move your company.
Accurate Commercial Removals Quote
Once we've completed our survey, we'll send you an accurate quote with no hidden costs. If the quote is to your liking, we will then work with you to schedule the best time for you to relocate and ensure we keep you up and running in the process.
Removal Service
Once the scheduled date arrives, we will meet you at your offices with all the packing materials you'll need to successfully move to your new location and make a start on that process ourselves.
Areas Our Office Removals Cover
Hallam Removals have been completing office removals across South Yorkshire for years, building up a strong reputation and a highly skilled team. We have moved both small and large businesses across South Yorkshire, including Sheffield, Hope Valley, Chesterfield, Rotherham, Barnsley, Doncaster and beyond.
Along with this, we have worked with many businesses relocating to and from business parks in and around Sheffield, so if this applies to you then please just let us know and we will gladly assist you.
Fill out our quick form and we can provide you with a free quote and expert advice surrounding your upcoming relocation. We provide quality removal services without the big price tag.
Storage Solution
When moving offices, we understand that you might also need storage solutions especially if you are moving to a smaller location. On top of removal services we can provide you with short or long term storage at great rates.
All of your belongings will be held in a secure warehouse inside of wooden containers to keep out damp and pests. If you should ever need access to that storage, it is available anytime during our business hours and only takes a phone call to let us know you're on your way.
Add this service to your office removals if you're worried about storage at your new location.
Why Choose Us?
There are many reasons to choose us as your office removal company, but we've highlighted a few of our favourites:
A top three removal service in Sheffield for the past 2 years
Free removal quote tailored to your needs
We provide all the materials you'll need to get you up and relocated to your new office
From packing up to moving them, we offer a full removal service for every customer
Moving slightly further away? No problem for us as we offer long distance removal services when needed
Trusted by hundreds of people for home and office removals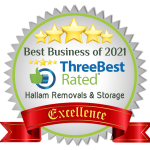 Frequently Asked Questions