Whether you're planning on relocating to or from Rotherham, our removals team can help. Our removals Rotherham service is affordable, efficient, and handled by highly-skilled removers. Whether you're moving home or business, our friendly team can work around your schedule and requirements to offer a hassle-free move.
Why move to Rotherham?
Rotherham is a large town in South Yorkshire. With its beautiful countryside walks, waterways, and historic architecture, including the gothic Roche Abbey and Grade I Listed Wentworth Woodhouse, it attracts families and individuals alike.
Not only does Rotherham have some of the most attractive house prices in the UK, it's also within an easy commuting distance of Sheffield and London. For workers looking to commute, this thriving town offers the best of both worlds
If you're ready to start planning your next move, Hallam Removals are a trusted local removal company that offers exceptional customer service. Give us a call on 0114 331 0113 for a free quote or expert advice today.
COVID-19 UPDATE:
As government guidance states, people are still allowed to view houses and move during COVID-19 restrictions. These restrictions also apply for businesses, meaning you can still relocate yours during this time. Removal firms have been given the greenlight to continue working meaning we are able to help you, while maintaining social distancing and using the necessary face coverings.
If you feel you need to self isolate or are feeling unwell, please get in touch with our team so we can cater to your needs.
You can learn more from the government website regarding COVID-19.
Our Services
House Removals Rotherham
No matter how large or small your property, our house removal Rotherham service is designed to provide a smooth, stress-free move from start to finish. Our team can work around your busy schedule. It's easy to get your removal booking started. Simply fill out our contact form or give us a call.
Office Removals Rotherham
With a thriving economy and convenient transport links, office removals are more popular than ever. Whether you're looking to upgrade your office space or relocate to a new location, Hallam Removals can get you there with minimal disruption to your working day.
We will arrange a site survey so we can provide a quote and plan the move in a way that fits around your business. Depending on your requirements, we can complete your office removal in one – three days and we are more than happy to supply plastic crates and moving materials to safely move your IT equipment.
Book a free site survey now and get ready for a smooth, hassle-free move!
Schedule Your Free Site Visit
First, we will arrange a home visit at a time to suit you with one of our expert Rotherham removals surveyors. This is the perfect time to ask any questions you may have and we can also discuss our insurance cover, furniture protective measures, and terms and conditions.
Once you're happy with the plan, we can schedule your move. In the meantime, you can read our comprehensive Moving Guides and Checklist to help you prepare for your move.
Dismantling and Packing Furniture
We know that dismantling, packing and reassembling furniture can be hard work and time-consuming. That's why we offer a complete packing service for an additional fee.
Unfortunately, we are not able to retrieve any items from the loft, however, if you are unable to do so because of a disability, please let us know.
We have a number of tried and tested measures to protect your furniture and belongings while they're in transit.
All furniture is covered in blankets and securely strapped inside the van
Sofas are wrapped in padded sacks
Mattresses are wrapped in woven polyester covers
All fragile items are individually wrapped and placed in boxes using void fill
Garments and clothes can be placed on hangers in wardrobe boxes
If you have furniture or items that you know won't fit into your new property, but you still want to hold onto them, we can arrange affordable and secure self-storage should you require it. Contact us for more information or a free quote today.
Storage Rotherham
Whether you're relocating an office or moving house, if you need somewhere to store your excess belongings we can provide secure storage facilities in Rotherham as part of our service. With 24 hour access and flexible storage contracts, you're in control and can rest assured that your belongings are in good hands.
Top 3 Best Rated Removals Company
Hallam Removals and Storage are consistently recognised as one of the best removals companies in and around Sheffield – we were voted in the top three in 2021! We were selected for our high business standards, top-rated customer experience and competitive prices. You can trust us to offer a hassle-free, friendly removals service, and with flexible business hours we're here when you need us most.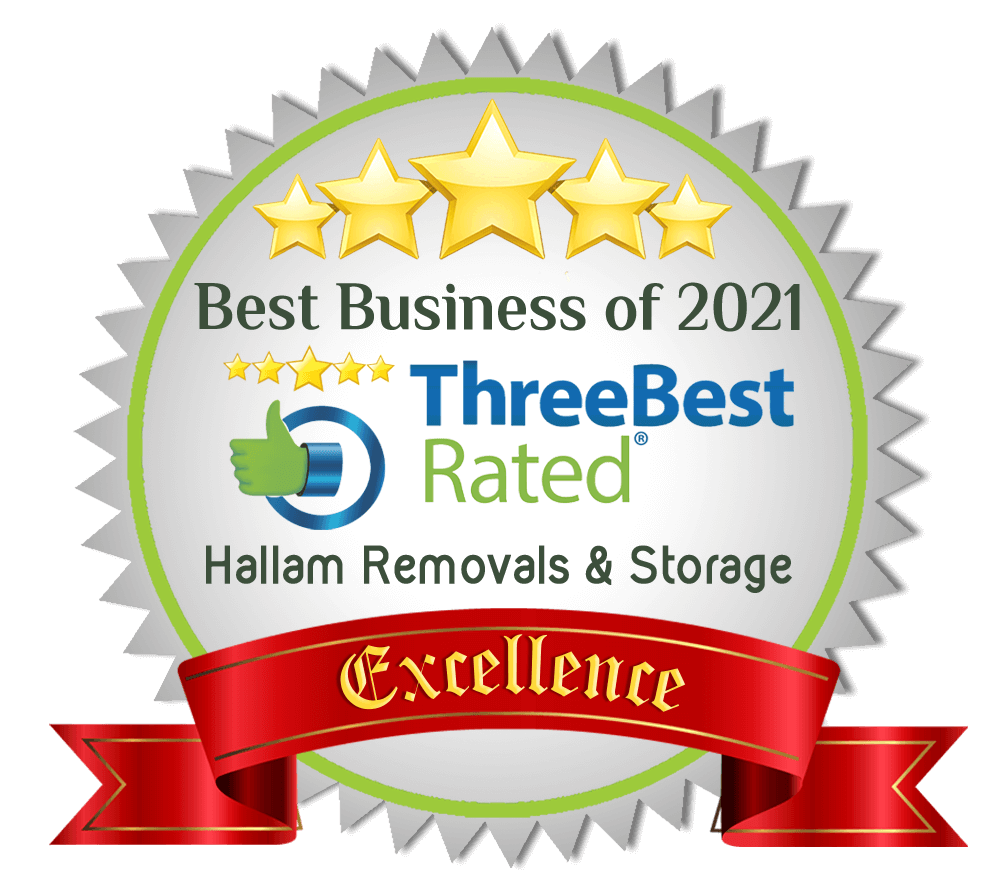 Your Local Rotherham Removals Company
We are extremely proud of our removals services and believe we are the best in the business – but don't just take it from us. Take a look at our glowing 5 star reviews on Google and Facebook.
Rawmarsh, Bramley, Broom, Herringthrope, and Dalton, we've completed removals across the whole of Rotherham. We also proudly serve the whole of South Yorkshire, Derbyshire and beyond.